For most of us, the snow and ice have finally melted which means, among other Spring and Summer delights, BBQ and patio season. If you are like us, nothing beats firing up the barbie and lounging over drinks and burgers under the glorious, long awaited sunshine. Now, if you are fortunate enough to make your nest in the tranquil countryside, then likely privacy is not among your primary concerns when relaxing out-of-doors, however, if your postal code is an urban one, then you might want to consider shielding your neighbours from your mojito-induced slow-dancing and pyjama party breakfasts. Enter the city-dwellers best friend: the fence.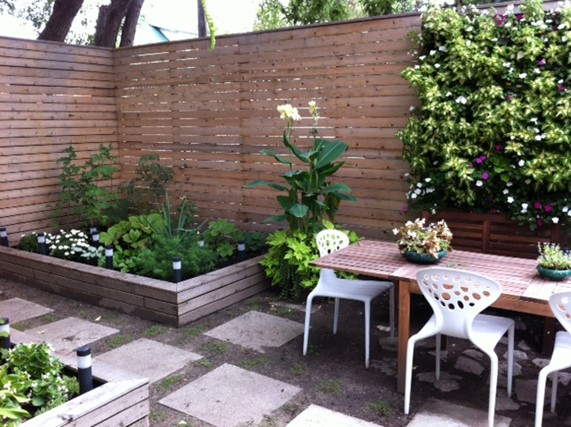 There are a myriad of materials and styles out there, geared specifically at confusing the heck out of anyone attempting to negotiate the great divide. From iron to cedar to lattice to hedges, there is no end to what you can do, but what makes it most complicated is finding a style that works for both you and the neighbor. Tricky stuff, people.
Here are a few suggestions that have worked for us in the past:
What level of privacy are you trying to achieve? Are there only a few spots that the cedar hedge doesn't cover, or perhaps you just need some screen around the hot tub? Alternately, perhaps you have a giant, drooling dog that you need to contain or most importantly, an element of hazard such as a pool or pond**. Addressing these issues first off will narrow down your list of material options available to you.
Don't skimp. If done well, a fence should last at least a decade. If maintained, twice that. Pine is beautiful on trees, but once cut down, should be moved indoors. Cedar will last an eternity and needs little maintenance. Staining cedar is entirely optional, however paint and sealants should be avoided so that the wood can breathe. Iron will last beyond the ages and powder coatings will ensure major longevity to the finish.
If you decide to go it alone on the design and build, perhaps because your neighbour is absent, or an empty lot or whathaveyou, then yes you are obligated to finish their side as well. Sucky, but true.
You buy it, I'll build it. It is conceivable that out of the two sets of neighbours, one of you is handy enough to put the materials in the ground. If this is the case, it might be easier to delegate the working to the workers and the buying to the shoppers. Also, this way there isn't a lot of hemming and hawing over an agreeable weekend for the 'group effort'.
The most popular question we come across from our clients is how to properly secure the structure into the ground. The answer generally depends on the length of the fence, how long you expect to keep it, and if you intend to secure anything to it. Simple screen sections can be erected using steel spikes like these:
But for anything with any length or intended longevity, Sonotubes and concrete are your best option: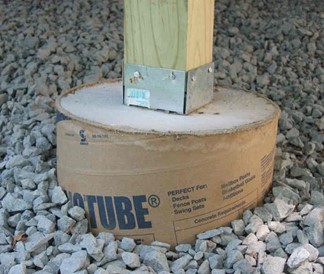 Above all, remember, it's not personal. If your neighbour has approached you before you approached them, don't take it as reflection on you (unless you're nudists or into sacrificing chickens or something;). Remember the old saying, good fences make for good neighbours.
ÂÂ
ÂÂ
** Check with your town or city to find out the rules for putting up a fence around your pool. Swimming Pool Safety (fact sheet) [Health Canada, 2005]